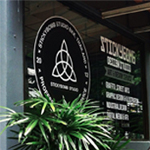 Welcome to StickyBomb Studio official site.
We are the new generation of design service that will provide you a unique design outcome. We are specialise in both of Arts and Design fields. Our services including of Graffiti, Street Art, Graphic Design, Illustration, Industrial Design, Digital Media and VFX.
Knowing our clients requirements and desired end results is our top priority. We are working with passion to create out standing and successful design results.

Please do not hesitate to contact us. We would very much like to help you.